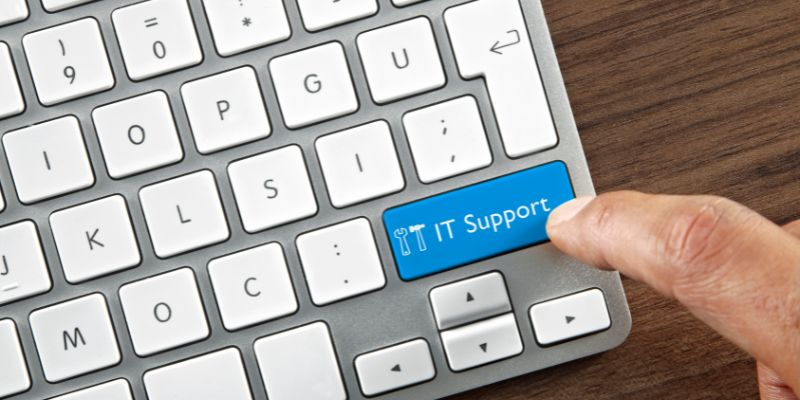 Running a small business is stressful enough on its own. Add in having to manage your own information technology services team and it's nearly impossible. Starting an internal technology team takes lots of two things: time and money. 
Compiling an expert team of techs is both of those—time-consuming and expensive. You can't just hire your nephew who just got accepted to DeVry to handle your business' IT needs; you need experts. Experts require expensive salaries, and rightfully so! But do you really have the room for that in your budget? 
Additionally, you must be willing to pay thousands of dollars in upfront expenses on equipment like servers, server racks, computers and end devices, thousands of feet of cables and wires, and the people to set up and maintain all the above.
Or maybe you've decided to take the break/fix services only route. 
For years, smaller companies relied on break/fix services; when something broke, they'd call a tech support company to come and fix it. By that point, though, the company is already losing precious productivity and revenue waiting for the fix.
Lucky for you, there's an easy, money-saving solution: outsourcing your technology services and opting for IT Managed Services.
What is IT Managed Services?
IT Managed Services is a fairly recent business service that provides expert IT support from a 3rd-party Managed Service Provider (MSP).
Your MSP gives you professional IT support and takes care of nearly all IT-related service and maintenance. Instead of waiting for things to break, MSPs focus on preventing issues before they happen by monitoring and maintaining your network in real time.
When you as a business owner sign up for IT Managed Services, your MSP will come to your site to install monitoring and maintenance tools on your existing network. These tools allow your MSP to monitor your network 24/7 and quickly respond to alerts. These tools provide valuable information so your MSP can determine trends that can affect your IT infrastructure and business operations.
When things go wrong (and they inevitably will), your MSP will help with both remote and on-site support. But since your MSP proactively receives alerts that point to larger problems down the road, they can correct many issues before they become a crisis for you and your business.
That all sounds great, but there's still one central question: how will IT Managed Services save you money? 
How IT Managed Services will Save Your Business Money 
No Internal Team Costs
Forming your own technology team isn't cheap. You're paying their entire salary as well as the materials they need to be successful. With IT Managed Services… [ADD]
Cheaper than Break/Fix Services
IT Managed Services is cheaper than break/fix services. While you pay a flat monthly fee to your MSP for their services, that fee includes everything except installing new hardware or replacing old hardware. With break/fix, you only pay when something needs fixed. But without sufficient maintenance, you'll need fixes more often—and they're expensive in both cost and lost revenue. IT Managed Services is proactive, so you don't have to worry about problems getting out of hand.
Always Scalable 
As your business grows and you hire new employees, you will also likely need to purchase new technology equipment that require specific, expensive licenses. With IT Managed Services, your MSP will provide you with every piece of equipment you could ever need. 
If you have seasonal employees or plan to downsize your company, there's a chance you'll be stuck with expensive equipment and no one to use it. Using Managed IT Services allows you to downsize your equipment any time and save money doing it.    
Executive Level Experience for a Fraction of the Cost
Most small and medium-sized businesses can't afford a full-time CIO to make big technology decisions. Luckily for you, IT Managed Services provide a "virtual" CIO, or vCIO, to help you. A vCIO is essentially a part-time advisor and consultant to help you figure out what you need on an ongoing basis.
MAXtech Is Here For You
Need help right-sizing your IT set up? You've come to the right place. Our experts can conduct a walkthrough of your office space to determine exactly what you need—and at a cost that fits your budget.
Contact us here today to get started, or call us at 614-201-8800.